M4A to MP3
Convert online and free M4A to MP3
Uploaded filetype:
Choose filetype:
Advert:
In order to play m4a files on conventional mp3 players or burn them to an MP3 CD, it may be necessary to convert these M4A files to MP3 . With file-converter-online.com this is done in just three steps: Upload file, select target format and download. The conversion from M4a to MP3 is of course free of charge without registration! At file-converter-online.com we offer you a free way to convert many file formats. You can also convert from m4a to mp3 with music using our online converter. We'll tell you exactly how this works and why this is a sensible conversion in many cases. The container format m4a is part of the mpeg-4 family. The mpeg-4 standard is a container format in which many different media contents can be stored. The ending mp4 stands for video, but audio files can also be saved in mpeg-4 format. These then often have the ending m4a. However, many mp3 players and smartphones have problems reading and playing back the m4a files. So in order to play music securely on all end devices, it makes sense to set to a more common standard and have m4a converted to mp3. There are various programs available for converting on the computer that convert m4a to mp3 – but what do you do if you want to send an m4a file and are on the go or need to be quick? At file-converter-online.com you can easily convert your m4a files into mp3 audio files using an upload form. You only have to upload the corresponding file, then the conversion begins immediately. If you convert from m4a to mp3, this has another advantage: Because unlike m4a files, mp3 files are always quite small. This is perfect, for example, for sending e-mails or for older mp3 players that only have a limited storage capacity. In contrast to mp3, the compression in m4a format is significantly lower and files can also be saved here without loss. This is accompanied by a corresponding amount of data.
Easily convert music – convert from m4a to mp3
Converting m4a to mp3 is easy with file-converter-online.com. With just a few clicks, you can also convert larger m4a files into handy mp3s for on the go or fast sending via e-mail and uploading to social networks.
Guide: Convert M4A to MP3 online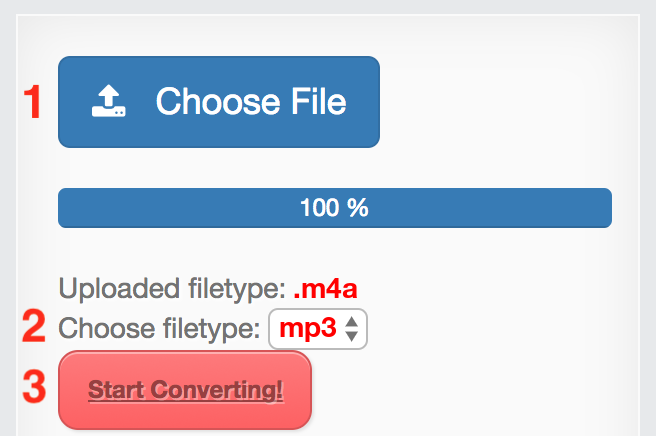 Choose input M4A file
Check target filetype and change if required (MP3)
Hit the "Start Converting!" Button
That's it! Your download will start automatically on the following page
Currently we support the following conversions with M4A files:
All Converters
Information about the extensions for the conversion from M4A to MP3
From: M4A
The file extension M4A (MPEG-4 Audio) is used for compressed audio files, which were created in the container format MP4 or MPEG-4. Unlike these formats, however, M4A files contain only audio data. Based on Apple's QuickTime file format, these d …
File extension:
.m4a
More information and converters for M4A
To: MP3
MPEG-1 or MPEG-2 Audio Layer III, mostly known as mp3 or MP3, designates a format for coding digital audio data. MP3 still ranks among the most popular formats for storing audio data. In the early 80s, the German Fraunhofer Institut developed MP3 as …
File extension:
.mp3
More information and converters for MP3
Video-Tutorial: M4A to MP3
File-Converter-Online.com is a service for converting files online from one type to another. We take care of your privacy and take care of your files. As a part of this, there's no registration required on file-converter-online.com. As we're offering our service in a browser, it does'nt matter whether you use Windows, Apple OS X or Linux. Your conversion results will always be at the same, very high quality and of course, without watermarks.